It's still amazing to me how many people are unable to understand text. Now, I don't mean the people who are actually illiterate, which is a genuine concern, I mean people despite being able to read cannot actually understand what is being said and the context and content fully. Such people are the type who have been gifted with the ability to actually read, unlike so many deprived of the skill, but who cannot use it to living a fulfilling life. What's more is that these same people apparently feel that they are above those who do not have the same level of intellect and opportunity to advance in society. I'd say it's a cultural superiority, but that would be polite and aiding their pseudo intellectual commentary. I think it's best to label them as trolls.
Let's find some definitions for trolls:
"A troll is a supernatural being in Norse mythology and Scandinavian folklore. In origin, troll may have been a negative synonym for a jötunn (plural jötnar), a being in Norse mythology. In Old Norse sources, beings described as trolls dwell in isolated rocks, mountains, or caves, live together in small family units, and are rarely helpful to human beings." – Yee Olde Wikipedia
"An evil troll, Torok, the transformed state of the ex-husband of an old friendly witch named Eunice St. Clair, has chosen her apartment building to be the heart of the restoration of the world he once knew. To do this he uses an Emerald ring, and takes possession of a little girl named Wendy, whose brother Harry immediately suspects something wrong. Torok, often in the form of the little girl, goes into each occupant's apartment, hideously transforming people into plant pods." – IMDB
"The savage trolls of Azeroth are infamous for their cruelty, dark mysticism, and seething hatred for all other races. Yet one exception among the trolls is the Darkspear tribe and its cunning leader, Vol'jin. Plagued by a history of subservience and exile, this proud tribe was on the brink of extinction when Warchief Thrall and his mighty Horde forces were driven to the trolls' remote island home in the South Seas during a violent storm." – World of Warcraft
Of course each of these explanations is as likely as anything you'll find on the Urban Dictionary or wherever else.
Now, this here lovely site doesn't get much in the way of trolls, or indeed comments at all, and for the most part comments are nice and congratulatory. If I'm lucky I get an inquisitive one or two. Then I get a few comments every so often to one or two of my Korea criticism links, which are apparently quite high on a 'I hate Korea' Google search, at least that's what I've been because I haven't checked – which is probably an indication of how much I care.
In one particular post I have a number of comments which all relate to the fact that my site is a forum for hatred and that it's OK to just blast out criticism, and I mean really nasty and narrow focused attacks on pretty much every Korean ever born – which includes my wife and daughter – and I've given up authorising those comments. I did go through a period initially where I allowed them, but I changed my mind because it is something that I actually feel pretty strongly against, and that's essentially the belief that Koreans are the bottom feeders of the earth and everyone who has ever met anyone who knows anything or nothing about Korea should be told this. I could go on but I won't. To give you an idea of the level of intellect we're dealing with here, allow me to share with you a recent comment which I still have yet to delete:
"Fuck Koreans. Everything about them sucks ass, and if you wanna see what happens to the world when Korean idiocy is left unchecked….North Korea…Nuffield said. I know for a fact MANY comments on this forum aren't making it because several of mines haven't, and I have a friend in busan who couldn't post either. Too much truth in his post maybe. Bring on the comments, I don't give a good god damn. I hate Koreans, most of my friends hate Koreans, and here in Australia, my neck of the woods, most of the people in my community don't like Koreans either. A kid came to my university from South Korea, and no one liked him. He would get the same criticisms…racist, pig headed, closed minded, arrogant, superiority complex, lack of common sense, poor manners, lack of courtesy, rude in general and annoying to be around. Fuck Koreans. I have visited SK for a month, and it made me hate them even more. My school should stop allowing these fuckers to come here, all they do is sit in their annoying little groups "tee-heeing" about shiny objects and what some asswipe k-slop bugger is on about. The Korean asswipe in one of my classes actually tried to explain to us why Koreans are a superior race, and that they are pure by blood…not according to my research. At any rate, fuck korea, there I said it. And I'll copy and paste this to word, so I can re-post if this doesn't make the forum." – Aussie who hates korrie (2014)
Of course, Mr/Ms AWHK doesn't realise that WordPress is pretty well equipped for tracking down gombeens who can't read the context of a post but who feel that the comment section is where their true calling in life lies. With that in mind I popped the IP address of the above into an IP finder. I'll leave this here and you can make your own assumptions.
Anyway, this post is about an inability to read and what concerns me is that seemingly educated people, as I assume all these people are, feel that they are above an entire nation of people yet they can't even understand a blog post. "But it's the internet" I hear you quip, and yes you're right I should set my standards a little lower.
With that in mind I'm going to finish with another lesson in how to read, or how not to read.
As I teach English writing here in Korea, one thing I'm always certain to do is to reiterate the necessity of confirming and knowing the sources where you get your material. I'm not against using online sources at all, in fact I encourage it as there is great variety in the internet. Of course there are problems with encouraging reliance on the internet. We do find ourselves sinking into our own personal information clique. Here we feel that without criticism we can read and post and read and post whatever we like without ever crossing paths with an alternative voice. Twitter is a perfect example of this, and if it weren't for having friends who I really know (and vice versa) who share a variety of opinions and news articles, from preachy Godist stuff and unrealistic out of context idealistic quotes from people I've never heard of heard, right up to the usual conspiracy theory and American politics we all love to slobber over in a fit of middle class apathetic rage, Facebook would be the same.
So it's important that when you read a blog or website you've never come across you should click the about page. If you have the time whilst lazily bullying yourself about the internet some more articles from said website might be worth your unbridled scrutiny also. But I can see how this can be difficult for some, who may have concerns for conserving their wrist's energy.
Again my poor misfortunate blog was left open to scrutiny. Again some genius, this time a clever fella 'Wayginkorea' felt he was more adept at internetting than your humble author, not that I am a master or anything. Fortunately, at time of going to press, even Reddit defeated its evil ways but I think I have some of my fellow Korea based bloggers to thank for a down vote or two.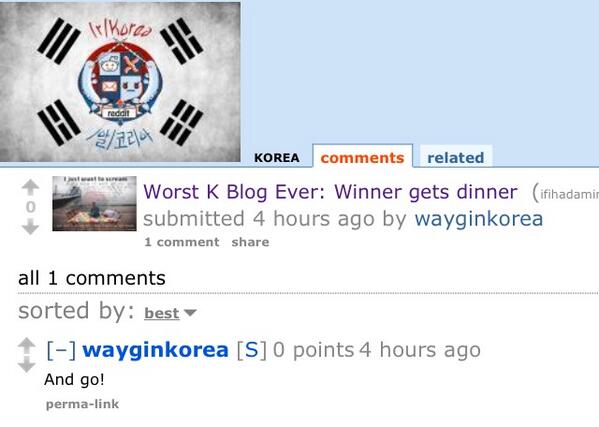 On that post that this individual was so displeased by, a defense if you please. I get it that my poem and recording of it didn't resonate so strongly with other people, but since the actual tragedy so much has come about that the poem's message has been completely swamped by the controversy surrounding the actual tragedy. If you asked me the kind of people who decided they knew so much about the accident and Korean culture and are only nodding their heads into whiplash with I-told-you-sos will find something like this only abhorrent. I myself do my best to stand out of the way of truth, and just try to accept the current.
This was an account of something I did on my personal blog, so if you didn't like it go back and read teacher blogs about how little Jimmy couldn't control his wee wee and then spelled kuntin kandy instead of cotton candy. Life, my friends, is not all about everything meeting your own standards.
The thing is that gets to me is that there's a great market out there for absolute Korea related vitriol, but you won't find it here. It's not that I don't have things to complain about that stem from life in Korea, and it's not that I wouldn't be in a position to rant on and on and on about them. Because I could. In fact I've about three or four half finished drafts of such vitriol which have seen the sobering light of a night's sleep and have remained where they belong. Perhaps someday they will materialise as some class of content but for now they are merely writing practice.
I don't see any point in ranting in hate here, or in any class of media, be it online or in traditional formats. It serves little function, and even in front of real live people the distance and use is relegated to just pissing more people off. I'm not suggesting the internet is a place only for happy stories and cute puppies, which some people actually enjoy. But there is a place for anger and unless it is serving a purpose that will effect change I can only see it as a waste of time, yours and mine, and a reason to be more angry about nothing in particular. An English written blog about an individuals life in a very foreign country is an example of where anger is a waste of time.
If anything my beloved but few readers, when you read, read deep. Read more than just the link. As long as the internet is open there will be more than just a link to click, and with that more information, images, reactions, and perspective more can be gained. Find out for yourself, and don't let some moderator or Google search decide for you. Don't be afraid of your mouse, or your eyes, or spending a little extra time to work out where you really stand on some bull shit argument some half-wit blogger posted on the internet.